The 2023 World Performance Car awarded to the Kia EV6 GT
During the New York International Auto Show awards ceremony in New York, the Kia EV6 GT was crowned the 2023 World Performance Car. The World Car Performance award is judged by a jury of 100 international automotive journalist representing 32 countries. The jury evaluates vehicles from all around the world.
On top of the Kia EVG GT winning the 2023 World Performance Car, the standard model of the Kia EV6 was awarded the 2022 Car of the year and 2023 North American Utility Vehicle of the Year.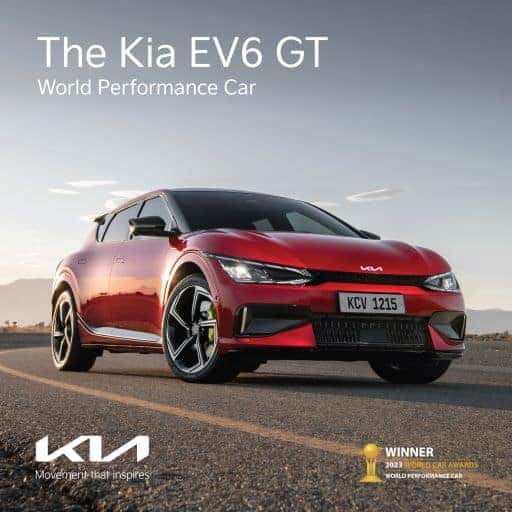 Highlights of the Kia EV6 GT
Combined power output of 430 kW (585 PS)
3.5-second 0-100km/h acceleration time
Top speed of 260 km/h
Long-range capability
Spacious interior
Sophisticated design
The design of the EV6 GT follows along the brands new direction. Kia's new brand direction focuses on enabling people to see new places, build new relationships, and have new experiences.
"To be recognized in this way by the World Car Awards' judges is a tremendous honor. As Kia transforms to become a world-leading sustainable solutions provider, we are leaving no stone unturned to create vehicles which deliver exceptional practicality while also inspiring customers through their ingenuity, technology, and design. This latest prestigious accolade provides further confirmation of the success of our strategy." (President and CEO of Kia Corporation Ho Sung Song)