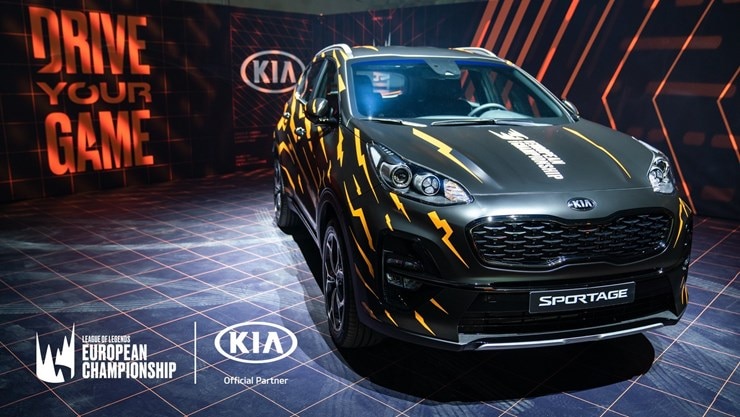 Kia Motors Corporation sponsors the League of Legends European Championship Summer Finals 2019 in Athens for the first time, showcasing its popular vehicles and unveiling commercials designed to win the hearts of millions of Europe's electronic sports fans.
"Through our collaborative marketing with LEC, which enjoys the most innovative competition among different leagues around the world, Kia Motors has been able to approach the younger generations and get close to them naturally," said Artur Martins, the Vice President and Chief Marketing Officer at Kia Motors. "Kia Motors expresses its deep appreciation to the tournament organizer and video game developer Riot Games for its steady support throughout 2019. We hope to continue our excellent partnership."
The two commercials, which are available on YouTube, are aired from the stadium's main screen. The Driving Your Game commercial features the Kia Stinger, All-New e-Niro, New Sportage, All-New Kia Ceed and Kia Stonic models; and The Perfect Intro commercial -- created as an official season-ending film for the LEC -- features the Kia Stinger, and is distributed on various social media channels.
The Ceed and Sportage models -- both emblazoned with official LEC graphics -- are displayed beside the broadcasting booth.
The number of esports fans worldwide is estimated to reach 422 million people in 2019 from 281 million in 2016, and expected to top 600 million by 2023. Although organized online and offline competitions have long been part of the video game industry, they were not significant until live streaming became a dominant force around the world. By the 2010s, eports has become a major driver of the industry, with many game developers actively designing games tailored to the professional esports sector.
"We are privileged to have Kia Motors choose the LEC for its first partnership in esports, and humbled by Kia's support in activating our partnership," said Alban Dechelotte, the Head of Business Development at Riot Games Europe. "By offering various kinds of financial, programmic and marketing support, Kia Motors has enabled the creation of some of the most engaging contents this year. The overwhelmingly positive reception from players speaks volumes about the quality of our partnership, and we look forward to the next chapter of our shared story."
This year's tournament marks Kia's first sponsorship of the League of Legends European Championship, where Europe's finest teams lock horns to lift the LEC trophy and secure their regional spot at Worlds 2019. The finals also hosts the second LEC Fan Festival, where visitors can take part in a variety of exciting activities, such as cosplay and meetings with their favorite pros.
At the LEC, Kia Motors also operates a games zone, where fans can play a digital game featuring the Sportage and Ceed models, and a photo zone where they can take photos and win lottery prizes. Some 10,000 number of people participated in the two-day finals as audiences, and 600 thousand people watched the competition from around the world.