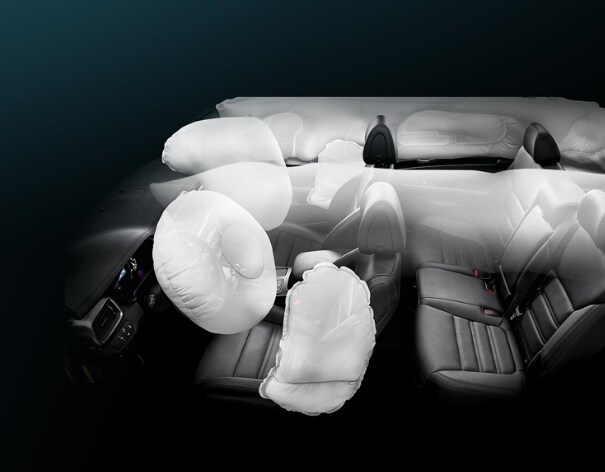 The
2019 Kia Stinger
was recently awarded a
Top Safety Pick+
rating from the
Insurance Institute of Highway Safety
(IIHS). With this, a total of ten Kia vehicles have earned a 2019 Top Safety Pick or Top Safety Pick Plus rating. So, what makes Kia vehicles so safe?
Ultra-high Tensile Steel Vehicle Body Structure
Body of a vehicle usually refers to the frame on the surface. It takes up about 30 percent of the vehicle's total weight and plays a pivotal role in the vehicle's crash safety and styling. A vehicle body made of ultra-high tensile steel via hot stamping method allows the car to be lighter while increasing their rigidity. The result: better fuel efficiency and crash safety.
Airbags
Throughout Kia's new vehicle lineup, you'll find dual front airbags, front-seat-mounted side airbags, and side-curtain airbags for both front- and second-row seating positions.
Seat Belt Pre-tensioner
In the event of certain collisions, seatbelt pre-tensioners are designed to tighten the seat belts, pulling the driver and occupants more snugly into their seats, in anticipation of an impact, to help to reduce the likelihood of injury.
Bumper Systems for Pedestrians
Upon impact between a pedestrian and a car, the lower legform or lower stiffener can minimize the bending of his/her knee and make him/her fall onto the car to reduce the possibility for him/her to go under the car..
Advanced Safety Technologies
Kia ensures that every passive safety system on its vehicles is designed to help you handle the unexpected. Furthermore, every active safety system is designed to help drivers avoid trouble whenever possible.
Electronic Brake-Force Distribution (EBD): offers a measure of enhanced safety by electronically distributing appropriate amounts of braking pressure to each wheel through a network of sensors. The result is more controlled and precise handling while applying the brakes.
High Ling Tire Pressure Monitoring System (TPMS): offers the convenience and an added measure of preventative safety by constantly monitoring tire inflation pressures in all four tires. If tire pressure falls below a specified range, a warning indicator appears in the instrument cluster to identify the affected wheel.
Hill-Start Assist Control (HAC): offers an added measure of security when moving from a stop on a steep hill by preventing the vehicle from rolling backward. It functions by gently applying the brakes for two seconds while you move your foot from brake pedal to accelerator.
Vehicle Stability Management (VSM): adds steering direction control capability. Intervening when appropriate to further stabilize the vehicle, VSM helps the driver regain control and return the vehicle to its intended path.
Electronic Stability Control (ESC): offers an enhanced level of vehicle control and peace of mind by offering improved directional stability, helping you maintain the vehicle's intended direction of travel. ESC monitors and assists in the control of key vehicle functions by braking individual wheels and reducing engine power accordingly.