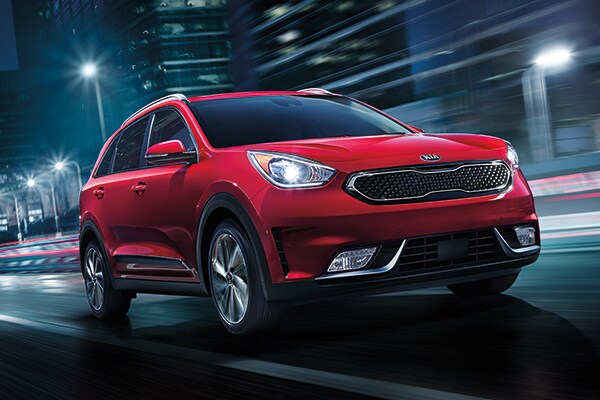 By now we've all seen the hilarious Melissa McCarthy TV commercials for the Kia Niro. In the TV spots, the comedian gets herself repeatedly tossed about while attempting to complete various environmentally friendly missions. McCarthy's physical comedy is memorable, as she falls out trees trying to save the rain forest, tumbles into the sea off an an iceberg, and even gets flung across the ocean trying to save the whales. The point is clear, you don't have to go to extremes, you can
safely
do your part to help save the planet by driving a hybrid vehicle. In this case, the new
2017 Kia Niro
.
The main selling point of any hybrid is going to be the gas mileage, right? So let's take a look at that right away. The Niro averages right around 50 mpg. That could be a little higher or a little lower depending on the trim level and type of driving. What's interesting, is that this hybrid engine works opposite of what you might expect from a regular gas-powered engine. With a regular gas powered engine, you usually get higher gas mileage with highway driving versus city driving. But since the hybrid engine has regenerative braking (which stores and uses the kinetic energy generated by braking), the city driving actually has the better fuel economy. The other variable to think about is the trim level. The more bells a whistles the Niro has, the more power is needed to run them. So that's going to have a slight impact on your fuel efficiency. Take a look at this chart breaking down the fuel economy over the trim levels. (Note, these are estimates. Actual MPG will vary "with options, driving conditions, driving habits, and your vehicle's condition.")
| | | | | |
| --- | --- | --- | --- | --- |
| TRIM | FE | LX | EX | TOURING |
| MPG (City/Highway/Combined) | 52/49/50 | 51/46/49 | 51/46/49 | 46/40/43 |
Now, for me, the remarkable thing about these figures is that we're not talking about a small hybrid car here. This is a crossover SUV with these kinds of numbers. For comparison, the similarly-sized
2017 Kia Sportage
has an average MPG of 23 city / 30 highway. Kia's hybrid car, the
2017 Kia Optima
Hybrid, offers 39 city / 46 highway. It's impressive for a vehicle the size of the Niro to be able to produce this level of the fuel economy and not sacrifice size. Bigger than a car or hatchback wagon, yet still smaller than a big van or SUV, the new crossover segment gives you the functionality of a sports utility vehicle without feeling like you're driving an overbearing bus or tank.
I had the chance to review and test drive the vehicle for an
episode of First Gear
, and I can tell you that there are many more impressive things about the Niro than just the fuel economy. The exterior design is sporty and aggressive. The interior is spacious, with plenty of room up front and the large cargo area with fold down seats in the back. The drive was very responsive and sporty. I never once felt like the engine was lacking power. I once had a misconception that a hybrid engine would embarrassingly put-put or zip around. This Niro aggressively accelerated, conquering the back roads and hills in this area with absolutely no problem. And since I was driving the Touring trim, there were plenty of tech and safety features to play with, including Front and Rear Parking Assist, Harman/Kardon Premium Surround Sound System, heated and ventilated leather seats, 8" touch screen display, and more.
I was genuinely impressed, and I encourage you to come down to Smail Kia and take a test drive of a new Niro and judge for yourself. See if you agree with me that this is the Goldilocks of vehicles. Outstanding fuel economy, the price is nice, it has everything you need, and it's not too big and not too small.
Click here for 2017 Kia Niro vehicles in stock at Smail.